Kipor IG 1000 LPG Suitcase Inverter Generator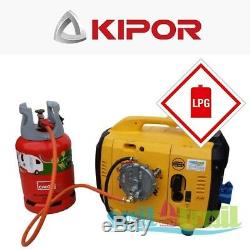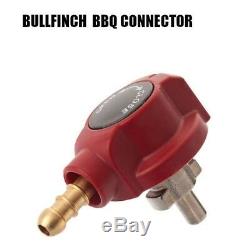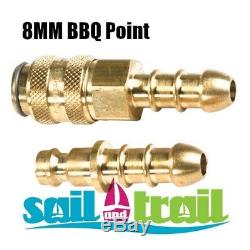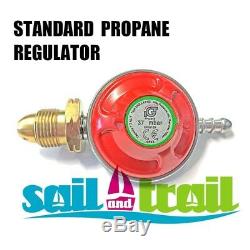 Kipor IG 1000 LPG Suitcase Inverter Generator. See how easy it is to start our generators on LPG with the following video of a Kipor IG2600 With an On Generator Kit. Kipor IG2600 LPG Starting Process by Sail and Trail - YouTube. Video will open in a new window. The Kipor IG 1000 LPG - On Generator Kit.
Introducing a Sail and Trail exclusive, have your generator arrive already converted to use LPG, no need to mess around fitting it. Just connect up to gas out of the box.
Running on LPG provides you with several benefits such as. Cost savings , propane is about 50% cheaper than petrol. Unning time can be extended according to cylinder size making it easy to refuel, just connect a new cylinder. Cleaner running , extending the life of your generator, leading to l. No longer have to carry petrol , this eliminates a lot of the smells and storage problems produced with petrol and the f. Ire risk is considerably reduced. No risk of fuel issues due to stale fuel or fuel residue deposits from petrol, even if the equipment has not been used for long periods of time. No reduction in performance - power outputs do not change. We offer the kits as "On Generator" or "On Bottle", this simply refers to where the silver garretson is placed, either on the generator or up by the bottle.
The "On Generator" kits allow you to connect easily in to a BBQ point and keep the unit all together for storage as the garretson is attached to the side of the generator. The "On Generator" kits add 130mm to the width of each machine but the door can be removed easily for storage purposes. Each machine is converted by us and then fully load tested prior to dispatch.
Please allow an extra 48 hours for this. We can supply the generator with a standard regulator or a BBQ point for easy fitting to a caravan or motorhome BBQ fitting custom fittings are available eg. Bullfinch, please ask if unsure. Our kits are also designed as dual fuel kits. They fit onto petrol engines and allow you to run the generator on LPG, while still enabling you to switch back to petrol if you wish. You just have to make sure that no petrol is in the generator when using LPG. Conversions of small petrol engine appliances and equipment to LPG is becoming increasingly popular not least because of the cost savings - today's technology makes conversion relatively simple and provides many benefits. We believe the new generation of Kipor suitcase inverter generators to be the best yet. They are easy to start, reliable and more importantly very quiet in their operation.
The IG1000 is a standout of the Kipor suitcase range and offers. Peaking at 1000 watts making it ideal for the average caravan/motorhome/boat if you do not need to run a microwave or hair dryer.
The fuel tank holds 2.6 Litres giving approx 6 hours average use on a full tank. Weighing only 14kg it is very portable. We offer a full back up service on all our generators and a 12 month domestic use. A full service and parts facility is also available from us. One of the non-stop tasks of KIPOR is to produce generators of high quality and to be environmental-friendly. KIPOR has developed digital generators which are considered smart, reliable and high quality. The KIPOR Digital Sinemaster generator set series offer unsurpassed technology, quality and consumer benefits in the industry. Lightweight Portable Generator Power The alternator is connected directly to the engine, eliminating the flywheel as in traditional sets.
This design results in a 50% reduction in weight and overall dimensions. Electric power is made available to a wide range of applications. Unique Construction Utilizing The Latest Technology Patented cooling air intake design, smart throttle power management, sound attenuation construction and inverter style output all combine to produce state-of-the-art portable electric power. EPA Certification KIPOR digital sinemaster sets have received EPA certification.
Green Power System The KIPOR Digital Sinemaster Series is among the most environmentally friendly class of generators in the marketplace. The two-tiered noise dampening system results in a 10-15 decibel reduction from traditional generator sets. The high-efficiency combustion system results in ultra-low emissions Quality Power KIPOR utilizes inverter technology in the Digital Sinemaster Series generators to produce a pure sine wave AC output. The inverter unit tightly regulates voltage and frequency. You can rely on the generator to safely run all electronic equipment including microprocessor controlled appliances and tools A Wide Range of Benefits In addition to clean, quiet, and efficient power, KIPOR offers superior overload and low oil level protection.
The unique Smart Throttle automatically varies the engine speed according to the load, resulting in lower fuel consumption and less engine noise. Using 20 to 40% less fuel than a conventional set results in a longer running time. Rated voltage(V): 230 120/240.
Rated current(A): 3.9 7.5/3.75. Rated output (kVA): 0.9. Fuel capacity(L): 2.6.
Continous running time(hr)(rated output): 5.0. Noise level(zero load-full load)dB(A)/7m: 54-59. Overall dimensionL×W×Hmm: 460X250X395 (not including sockets). Fuel type: Automotive unleaded gasoline.
Lube oil brand: CD grade or SAE10W-3015W-40. Engine Type: Single cylinder, four-stroke, OHC, vertical, air-cooled. Compression ratio: 8.5:1. Rated power[Kw(r/min)]: 1.3/5500. The item "Kipor IG 1000 LPG Suitcase Inverter Generator" is in sale since Wednesday, November 14, 2018.
This item is in the category "Business, Office & Industrial\Industrial Tools\Generators". The seller is "sailandtrailltd" and is located in Newton.
This item can be shipped worldwide.
Brand: Kipor
Model: IG1000 LPG
MPN: Does Not Apply
Type: Portable
Power Source: LPG/Petrol
Unit Quantity: 1
Unit Type: Unit