Hyundai 1000W Portable Petrol Inverter Generator HY1000Si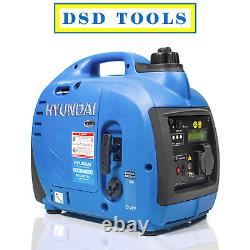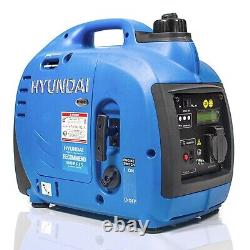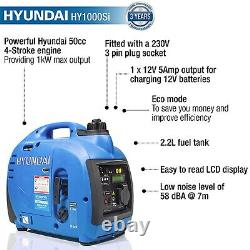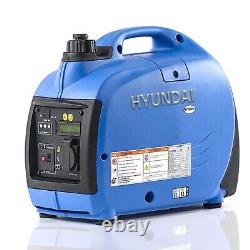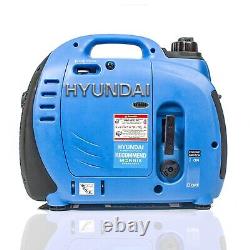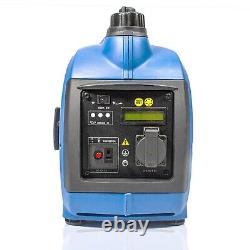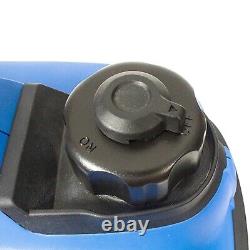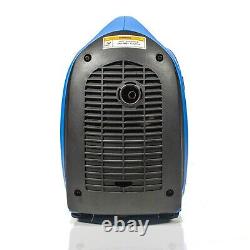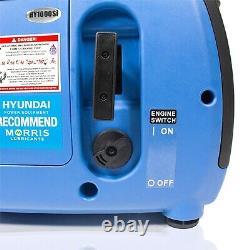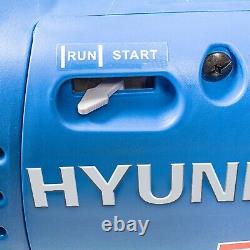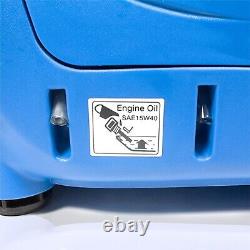 Hyundai 1000W Portable Petrol Inverter Generator HY1000Si. Hyundai 1000W Portable Petrol Inverter Generator. The HY1000Si is a compact, lightweight and portable inverter generator from Hyundai. As this inverter generator is so quiet and compact, it's ideal for use when camping or whilst staying in a caravan or motorhome, allowing you to take both modern luxuries and home comforts with you wherever you go.
Able to produce a pure sinewave output, this means that this petrol generator can safely power all sensitive electronics, such as TVs, laptops, etc, without the risk of damaging or overloading them. Whilst providing the same quiet and cost-effective power source as our older model, this redesigned inverter generator now features a much slimmer case, weighing just 14kg, that allows you to easily store it in your car boot or caravan cupboard with room to spare. This is made possible to due our brand new, more compact inverter board installed across our Hyundai Inverter Generator range to save precious space whilst on the move, whilst still being able to provide the same impressive performance. This inverter generator is really easy to use, making it extremely popular for powering family holidays, and it's also built with low maintenance requirements for cost-effective, fuss-free power whilst away from home.
Already an economical generator, the HY1000Si also has the added benefit of an'ECO' mode which, when selected, will lower the engine revs to match only the load being applied, which in turn increases the fuel economy, lowers the noise produced and extends the lifespan of the engine. The HY1000SI features an LCD display - which shows the hour count - making it easy to monitor how your generator is performing at a glance. Digital overload protection will shut the generator down if devices exceeding 1kW start-up or 900W continuous output are plugged into the generator. It also features low oil shutdown which turns off the generator should the oil levels drop too far. Please note that inverter generators are specially designed for leisure use - for weekend getaway, holiday or emergency standby use.
These generators are not suitable for continuous daily use or as an off-grid power supply. For heavy-duty commercial use, we recommend a conventional 3000rpm petrol generator. Petrol generators must never be used inside due to risk of carbon monoxide poisioning.
Please ensure you are fully aware of the danger of operating a generator. Fully Assembled Dimensions (H x W x L) (mm). 476 x 271 x 425.
Package Dimensions (H x W x L) (mm). 492 x 286 x 400. Fuel Type / Power Source. Hyundai 1000W Portable Petrol Inverter Generator, 12v DC Charging Cable, Spark Plug Spanner, Oil Filler Jug, Screwdriver. We provide invoices with VAT separately displayed.