Champion 2200 Watt Mighty Atom Dual Fuel Inverter Generator, Lightweight, 80cc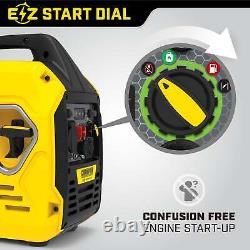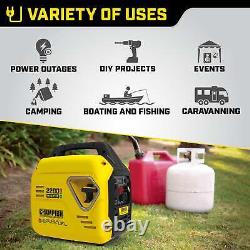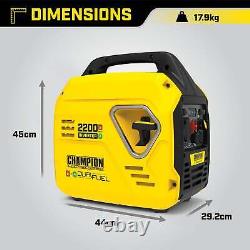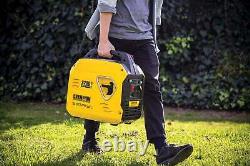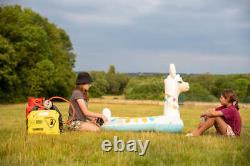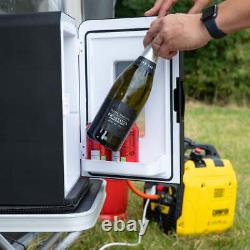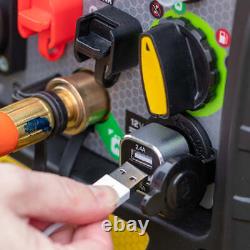 Champion 2200 Watt "Mighty Atom" Dual Fuel Inverter Generator. At only 17.6kg (38.8 lb) the 2.2 kW Mighty Atom is even lighter than the lightest 2000 Watt Inverter generator currently on the market. Now available with Dual Fuel Technology! Portable power and lightweight design are yours with the Champion 2200-watt inverter Dual Fuel generator.
Rely on the 79cc engine and enjoy a quiet 58 dBA for up to 10.5 hours of run time (at 25% load) or even up to 34 hours run time with a 19kg Propane bottle. True Sine Wave inverter technology makes this generator ideal for sensitive electronics such as computers, laptops and TV.
Perfect for your next camping trip or powering small household items like fridges/freezers, power tools, lighting units & garden equipment. This inverter has parallel capability allowing you to pair up with other Champion Inverters using an optional Parallel Kit. The biggest attraction of LPG is the lower running costs (bottled gas is about 30% - 50% cheaper to run currently than petrol, the larger the cylinder the cheaper the gas becomes). As fuel becomes more expensive this becomes an even more attractive offer. You have greater flexibility with regards to extending the running time, just use a bigger cylinder if you need a longer running time; you are no longer limited by the internal fuel tank.
Cleaner emissions allows for use in situations where petrol is not appropriate such as around food or on those sites that do not allow petrol for fire risk precautions. There are also no petrol storage problems, eg. Minimal risk of fuel spillage, as the fuel is not? /fluid, also there is less chance of the fuel source being stolen. Lower maintenance costs due to the cleaner running; petrol decays over time and can block the carburettor or hinder its operation.
LPG does not have this problem as the LPG is sealed there is no chance of degradation. This leads to extended life of the spark plug and generator components. A lot easier to refuel just connect up a new bottle.
With more and more councils and campsites banning the use of petrol and diesel we feel that the demand of LPG Generators will only increase in the future. Please note that the majority of the competitions Dual Fuel models in the UK tend to be? All newly manufactured products are EU Stage V Compliant. Bimson Power (T/A BPE Retail) is a large e-commerce retailer specialising in Power Equipment including Winches, Hoists, Generators and.
Power based in the North of England, West Yorkshire. You must pay for the goods before we dispatch them. Where goods are available from stock, orders placed before 2pm Monday through Friday will normally be subject to same day dispatch. This covers most of the UK but may not apply to more remote areas such as Northern Scotland, Northern Ireland or Offshore areas. Arrangements will then be made for the incorrect item to be collected and a replacement item to be dispatched.
Arrangements will then be made for the faulty item to be collected to be repaired or replaced at our discretion. The above information does not affect your statutory rights and is subject to our standard terms and conditions, which are available on request. Complete winching solution in a convenient box kit. Easy to store, use and repack. Our wide range of ATV/UTV winches is ideal for large ATV's and small trailers.
Reluctantly termed as'entry level', however this describes the price, not the performance. Ideal for recovery and 4x4 applications. Built specifically for military use and able to withstand extreme climates & temperatures. Compact, tough, hydraulic winches for industrial and commercial applications.
Designed to meet the requirements of EN 14492 : 1 approved for professional operators. Warrior's Winch Hoists are only to be used to supplement a lifting solution. Operate your Dual-Fuel generator right out of the box on petrol or propane, and easily switch fuels with a quick turn of the fuel selector switch. Champion Power Equipment's new Digital Hybrid generator combines the robustness of a frame type generator with the quieter, lighter features of an inverter. The inverter's true sine wave allows you to power sensitive electronics like computers, TVâ?? Champion range of Inverters have a smooth waveform which makes these Inverters perfect for powering all sensitive electrical equipment such as laptops and televisions. From 2000 watts to 8,000 watts, the Champion Brand has the perfect portable generator to fit your needs. For your caravan, home, building site, projects and more, count on Champion to power your world. The Warrior diesel generators are manufactured by one of the worldâ?? S leading diesel generator companies and is ideal for all sorts of applications including domestic, construction and industrial. You can count on Champion Power Equipment Pressure Washers to combine practical features with high-performance components for cost-effective, do-it-yourself cleaning power for all your outdoor projects. Warrior Eco Power Equipment cordless lawn mowers are durable fine-tuned machines. None more so than our flagship Cordless 50cm Self-Propelled lawn mower. Why waste time mixing petrol and 2-stoke oil for those pesky petrol chainsaws when you can use a battery-powered Warrior Eco Power Equipment Chainsaw and get straight to the job. Make grass trimming a pleasure with the range of Warrior Eco Power Equipment Grass trimmers.
With generous run times and fast charging batteries you never have to worry about leaving a job half done. Whether it's autumn or you are mowing lawn, trimming hedges or cutting down trees, there is always a time and place for a leaf blower.
Warrior Eco Power Equipment leaf blowers are tried and tested! Make maintaining your hedge a breeze with Warrior Eco Power Equipment Hedge Trimmers.
Whether it's our 40V Pole Trimmer with a chainsaw attachment or our trusted 60V Hedge trimmer with its famed run time. You can be sure of Warrior quality. Need to reach up high? Look no further than Warrior Eco Power Equipment's Cordless Pole Hedge Trimmers. Save yourself the climb and let the trimmer do the work!
Featuring the 40V Cordless Pole Trimmer with an extra chainsaw attachment included. Never fear getting stuck on the 4x4 trail when you have a Stealth Winch.
Powerhouse winches for recovery vehicle owners. Stealth winches are for every occasion. Champion 2000 Watt Inverter Petrol Generator. Champion 2200 Watt "Mighty Atom" Petrol Inverter Generator.
Champion 3500 Watt LPG Dual Fuel Inverter Generator. Champion 2000 Watt LPG Dual Fuel Inverter Generator.
Your Source for Winches and Hoists. We pride ourselves on our products and customer sevice. We wont be beaten on price, quality or support. Your Source for Reliable Generators. Revolutionise your garden with our 60v Range.
The 60 Volt Performance Plus range is the crown jewel of Warrior Eco Power Equipment's cordless garden tools. Perfect for passionate gardeners, large gardens and semi-professionals. The best value winches on the market.
High quality, British designed winches to suit your budget. Whether its for ATVs, recovery vehicles, 4x4's or even your trailer. This listing is currently undergoing maintenance, we apologise for any inconvenience caused.