Pramac E4000 Petrol Generator Honda Engine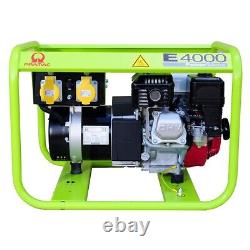 Harnessing the reliable power from the Honda GX200 engine the Pramac E4000 110V CTE 3.1kw petrol generator is ideal for use in applications like emergency power supplies, in industry, agriculture, building site and hire situations applications. The generous easy fill 3.1 L fuel tank enables the generator to run for over two and a half hours when using 75% load, consuming just 0.96 L per hour. CTE 3.1KW PETROL GENERATOR EASY.
HARNESSING THE RELIABLE POWER FROM THE HONDA GX200 ENGINE THE PRAMAC E4000 110V CTE 3.1KW PETROL GENERATOR IS IDEAL FOR USE IN APPLICATIONS LIKE EMERGENCY POWER SUPPLIES, IN INDUSTRY, AGRICULTURE, BUILDING SITE AND HIRE SITUATIONS APPLICATIONS. THE GENEROUS EASY FILL 3.1 L FUEL TANK ENABLES THE GENERATOR TO RUN FOR OVER TWO AND A HALF HOURS WHEN USING 75% LOAD, CONSUMING JUST 0.96 L PER HOUR. CTE 3.1KW PETROL GENERATOR EASY TO START AND USE? A GENUINE HONDA GX200 PETROL ENGINE PROVIDES ALL THE POWER YOU NEED.
IT HAS AN EASY RECOIL START, FURTHERMORE, HAS LOW OIL PROTECTION. FINALLY, THERE IS A CONTROL PANEL WHICH ALLOWS YOU TO INTEGRATE MANY ACCESSORIES AND OPTIONS ALONG WITH 4 X 110V 16A SOCKETS TO CONNECT TO ON THE PRAMAC E4000 110V CTE 3.1KW PETROL GENERATOR.
STANDBY POWER 3.4 KVA / 3.1 KW & CONTINUOUS POWER 2.9 KVA / 2.6 KW AT. DESPITE HAVING A LARGE CAPACITY FUEL TANK, THE PRAMAC E4000 110V CTE 3.1KW PETROL GENERATOR IS SURPRISINGLY LIGHT, COMPACT AND STRONG. THERE IS A TRANSPORT KIT CONSISTING OF TWO SOLID RUBBER WHEELS AND A NON-SLIP RUBBER FOLDAWAY HANDLE MAKES IT VERY EASY MOVE TO WHERE IT IS NEEDED. WHILE THE EASY TO USE CONFIGURATION GIVES YOU A FANTASTIC BALANCE BETWEEN PERFORMANCE AND PRICE. Here at Hire and Supplies.
We're not soley in the hire business. We also have an extensive range of power tools. Hand tools, lawn and garden equipment. And much, much more in stock.
With over 30 years experience in the tool trade, our staff can advise on all tools for your needs.