Böhmer-AGi 2500W Petrol 240v Portable Generator Quiet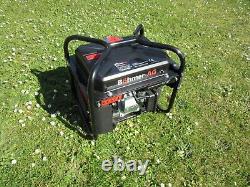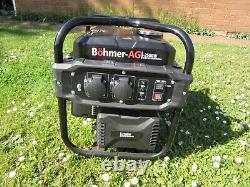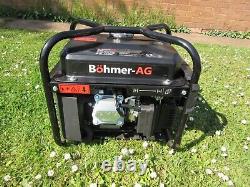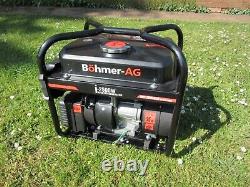 This generator contributes a 2.0KW Output from the mighty 120cc 4-stroke OHV engine the i2500-W that can assist you with large or small tasks at home or away. Dual 240V Output from UK standard 3-pin plugs at 50HZ. Along with a Gen III recoil starting and 100% Copper Motor Coil, for reliability and assurance. Bought approx 2 years ago....
Copper-wound motor 2000 watt provides up to 10 hours of clean, dependable electricity, empowering you to build, cater, clean, or perform for longer with 10 litres of fuel. The AG i2500-W durable frame protects and houses a powerful 120cc, 4 Stroke engine that consumes minimal fuel offering unparalleled energy and current stability. Convenient functions: The low oil protection system will automatically protect your engine by cutting out the machine if your oil level is too low. This 22kg highly portable generator has two built-in 240V AC UK plug sockets ideal for your power needs.