P1 Grade A P1000i 1000W Portable Petrol Inverter Suitcase ECO Generator 1KW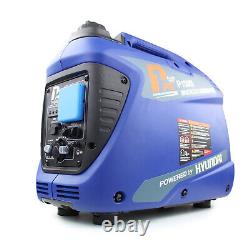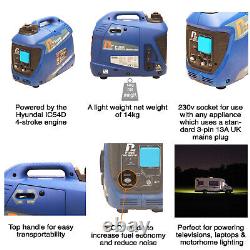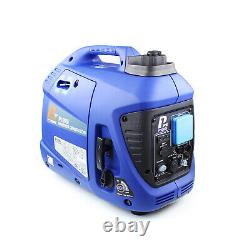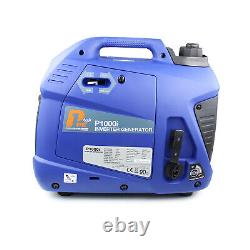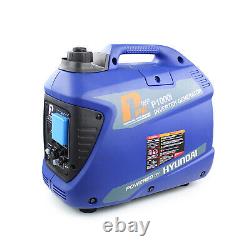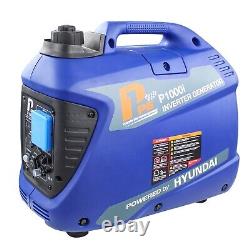 P1 P1000i 1000W Portable Petrol Inverter Suitcase Generator (Powered by Hyundai) - GRADE A. There may be some minor cosmetic imperfections in the form of scratches/paintwork damage but these would not affect the main function of the machine. The packaging will be imperfect or non-original. Powered by the Hyundai IC54D 4-stroke engine.
Maximum output 1000W ideal for powering appliances such as televisions, laptops, motorhome lighting and battery chargers. Compact, lightweight and portable, top handle for easy transportability. "ECO" mode lowers the engine rpm to increase fuel economy and reduce noise, whilst extending the engine lifespan.
Full UK service and parts operation to maintain your inverter generator for years to come. P1 P1000i 1000W Portable Petrol Inverter Suitcase Generator. The P1000i is a compact yet powerful portable inverter generator powered by the robust IC54D Hyundai 4-stroke engine, providing a cost-effective and reliable source of power, with 1000w output the P1000i is ideal for caravans and motorhomes allowing you to power TVs, lighting, laptops and recharge the leisure battery. The P1000i compact design, measuring only 450x24x400mm allows you to store it easily and transports in the back of a van or car.
Weighing only 14kg and combined with a moulded top handle makes carrying and transportation easy. The P1000i houses a new inverter board designed to cope with the extreme inductive loads applied when using power tools and electric motors with high start up currents. Powered by the Hyundai 54cc 4-stroke OHV engine, the P1000i produces 1000w / 1.0kW and is more than capable of powering televisions, small air compressors for inflatable beds, electric heaters, power tools laptops, lights, etc.
The control panel features a 230v socket for use with any appliance which uses a standard 3-pin 13A UK mains plug, as well as a 12v DC battery charging outlet and a 5v USB charging port, so it's ideal for a variety of uses. Producing a pure sine wave output, it can safely power sensitive electronic equipment.
The P1000i inverter generator is extremely popular for powering family holidays, and it's built to be user-friendly with low maintenance requirements. Digital overload protection will shut the generator down if it's overloaded and low oil shutdown also turns off the generator should the oil level drop below the safe limit.
Already an economical generator, the P1000i also has the added benefit of an "ECO" mode which, when selected, will lower the engine revs to match the load being applied, which in turn increases the fuel economy, lowers the noise produced and extends the lifespan of the engine. Hyundai IC54D 54cc 4-stroke air-cooled. Box Dimensions L x W x H (mm).
500 x 300 x 420.